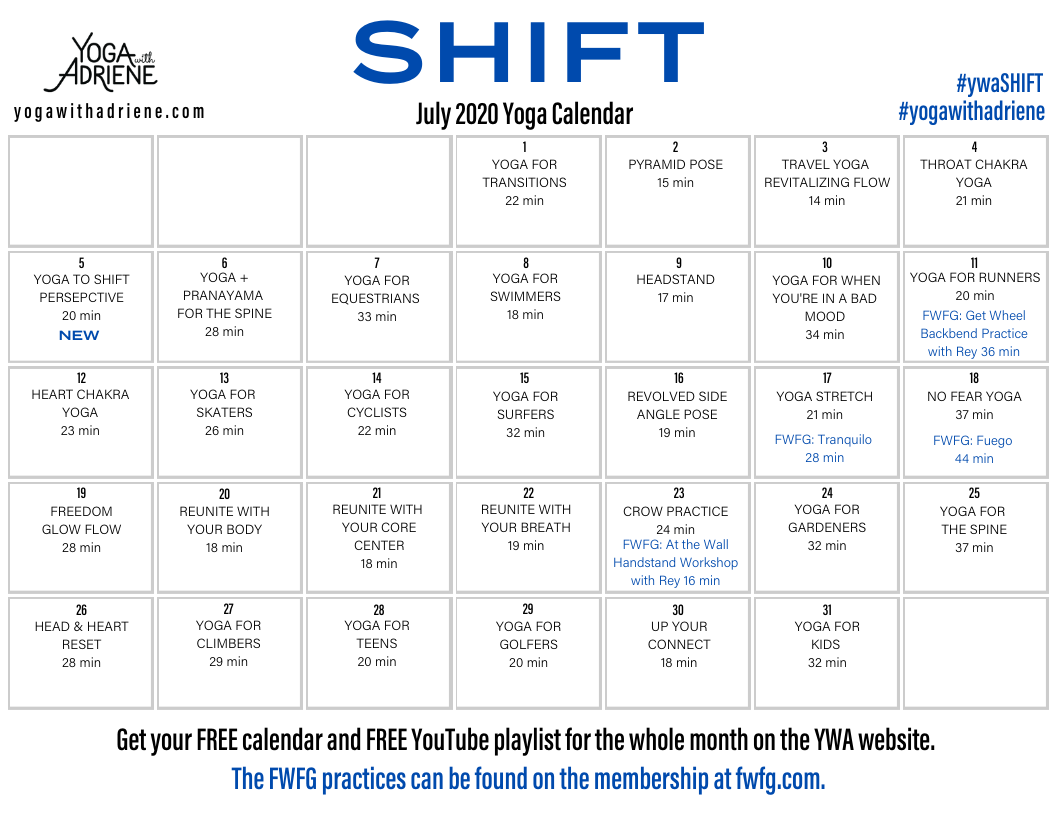 Scroll down for your free downloadable and clickable calendar and playlist for the month.
Here is your Yoga With Adriene Free monthly Yoga calendar! No gimmicks, no catch. This is an offering to help you get on the mat regularly to cultivate balance and wellbeing. If you are intuiting that you might benefit from a regular and sustainable at home yoga practice – look no further. 
If this is your first time joining us, welcome! 
Each month, we come together as a community around a theme that inspires questions and guides intention for your practice both on and off the mat. 
The practices selected support your exploration of the theme, whether you are taking on the whole month or dropping in for a single whenever you like. 
The practices on the calendar are free and are all available on the Yoga With Adriene YouTube channel. When we include membership practices on the calendar, they are noted as FWFG practices and we also include alternate free YouTube practices on those days for those who are not members. 
This month's free offering is an invitation to explore and nurture a SHIFT.
Many of the practices on the calendar this month will offer you the opportunity to not only move your body and shift your energy – but also to see the practice itself through a different lens. 
What does it mean to shift? Is it something you feel? Does it require discipline? 
Growth requires a willingness. 
Our at home yoga practice offers us the opportunity to surrender, to show up, to get down and get honest. Our regular practice is the safe place to make meaningful discovery. 
And, it can be joyful too. This month's curation will put you in the shoes of the skater, the surfer, the horseback rider. It may flip you upside down, shift to another perspective, change the channel and tend to the weight on your shoulders – which might be causing that ache in your back. 
This month, I invite you to drop preconceived notions in your practice,  and focus on your willingness to make new discoveries and new truths. 
Why is a practice of growing your own awareness and one's ability to shift gears and change perspective important? 
The world is inviting us to take a hard look and apply ourselves as both individuals and as a collective. 
Our mental and physical health, along with our emotional wellbeing is taxed, with only signs of it becoming harder and harder to stay in good health. 
Please use this free yoga calendar and this opportunity to commit to your own wellbeing. Prioritize this time for contemplation, moving meditation, strengthening, restoration, and exploration. 
For when you are well and showing up to do the inner work,  a bigger shift begins to rumble.  
Remember, the breath always comes first. 
Invite someone to join you! Drop in throughout the month or join us for the whole month. 
Share your experiences with the Kula and the community with #ywaSHIFT.
Be sure to subscribe to the Yoga With Adriene YouTube channel, if you haven't already! This is the #1 way to support the YWA free calendar and the new free YouTube videos.
Connect with @adrienelouise and @fwfglife on IG.
Here's what else you need to know:
Here is your free playlist on the YouTube channel that you can follow each day for the whole month. The new practice will be added to the playlist when it is released on July 5th.
Here is your playlist for the month on the FWFG membership. It is also located in the Community Monthly Themes section. The new practice will be added when it is released. 
Follow along with the calendar every day or drop in throughout the month. Find what feels good and keep practicing!
The Find What Feels Good membership FWFG app is available in the App Store and Google Play Store for mobile devices. The app is also available for your television with Apple TV, Roku, and FireTV. Or you can access it on the web at www.FWFG.com.
Previous Yoga Calendars
2020
January – HOME
February – KISS
March – CREATE
April – NURTURE
May – MEDITATE
June – COURAGE
July – SHIFT
2019
January – Dedicate
February – Care
March – Reset
April – Act
May – Open
June- Embrace
July – Power
August – Reunite
September – Rebirth
October – Explore
November – Grateful
December – Joy
2018
January – TRUE
February – LOVE YO' SELF
March – FRESH
April – RESPECT
May – MANIFEST
June – CATCH A WAVE
July – CENTER
August – CREATIVITY
September – CONNECT
October – MAGIC
November – FOCUS
December – HOPE